The Wonders Of Corrugated Board – It Ticks Every Box
Since their invention in 1894 by Henry Norris and Robert Thompson to replace wooden boxes, the corrugated box remains the most sustainable and cost effective  way of protecting goods in transit.
An excellent choice of green packaging. Why ? Because corrugated board is easily recycled, in fact corrugated cardboard can be recycled up to ten times. All recycling centres and councils accept this material and it is now efficiently shredded, turned to pulp and turned back into usable board, 70 -90 % of corrugated board is now recycled. All our board is sourced from FSC Chain of Custody certified suppliers who use sustainable forests which since the 1950's have been growing year on year.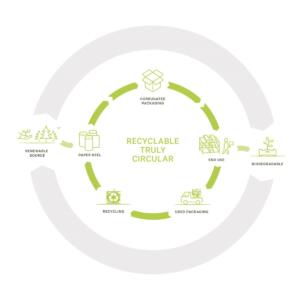 BESPOKE SERVICE – AN EVEN GREENER OPTION
If you can't see a box suitable we offer a very quick and affordable bespoke service (it's been the core of our business for 15 years so we are pretty good at it !). Our prices are low, lead times short and minimum order quantities surprisingly small. It might just save you packing time and unnecessary void fill costs. Lets face it, no customer wants to rummage through a box full of bubble wrap or loose fill to find their product ! Not only that, think of the environmental costs too ! Call us on 01604 812755 and ask for a bespoke box quote today ! We also offer a free sample service with standard styles..
The corrugated box is a very clever product. It is capable of absorbing high levels of shock, it is an excellent insulator, its sustainable and can be cut, creased and glued into multiple styles. Have you noticed sometimes that when you give a child a present, they are actually more interested in the box its packaged in ? There is a reason for that.
Did you know that during corrugated manufacturing the material itself reaches 100°C three times during production ensuring the elimination of microbes and bacteria ?
A recent study found corrugated trays keep fruit fresher and safer than reusable plastic containers because corrugated significantly reduces microbial cross contamination. Corrugated board is responsible for keeping food waste to a minimum in the supermarket, during transport and at home.